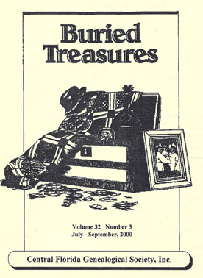 Buried Treasures was originally the Central Florida Genealogical and Historical Society Newsletter. It has been published continuously, generally quarterly, since January 1970. It contains family histories, bible records, wills, cemetery records, tombstone inscriptions and queries. Issues are typically released in Jan., Apr., Jul. and Oct. however one issue was skipped and the numbering system was not consistent in the early 1970s.
Every issue ever published is now available and you are invited to view these issues and enjoy the countless articles, stories, research strategies, and more. The earlier files were scanned and were not good enough quality to be totally accurate when read by computer and converted to text. However, all issues have been scanned and optical character recognition has been performed on them they should be searchable. In some cases the OCR results may not have accurately captured the correct spelling or words. If you copy text from these issues, make sure you double check the resulting text.
Most of the articles published in Buried Treasures have been indexed in PERSI (Periodical Source Index) that is available to search using Heritage Quest at the library and Ancestry.com.
The older issues are available to everyone but the most recent and current issues are reserved for our members only.
The most recent issues are available only to our members. If you are a member, please log in to view them.
* Volume and issue numbering standards were not always followed or were done in error from 1973-1976. The Volume 7 designation was skipped and never used.