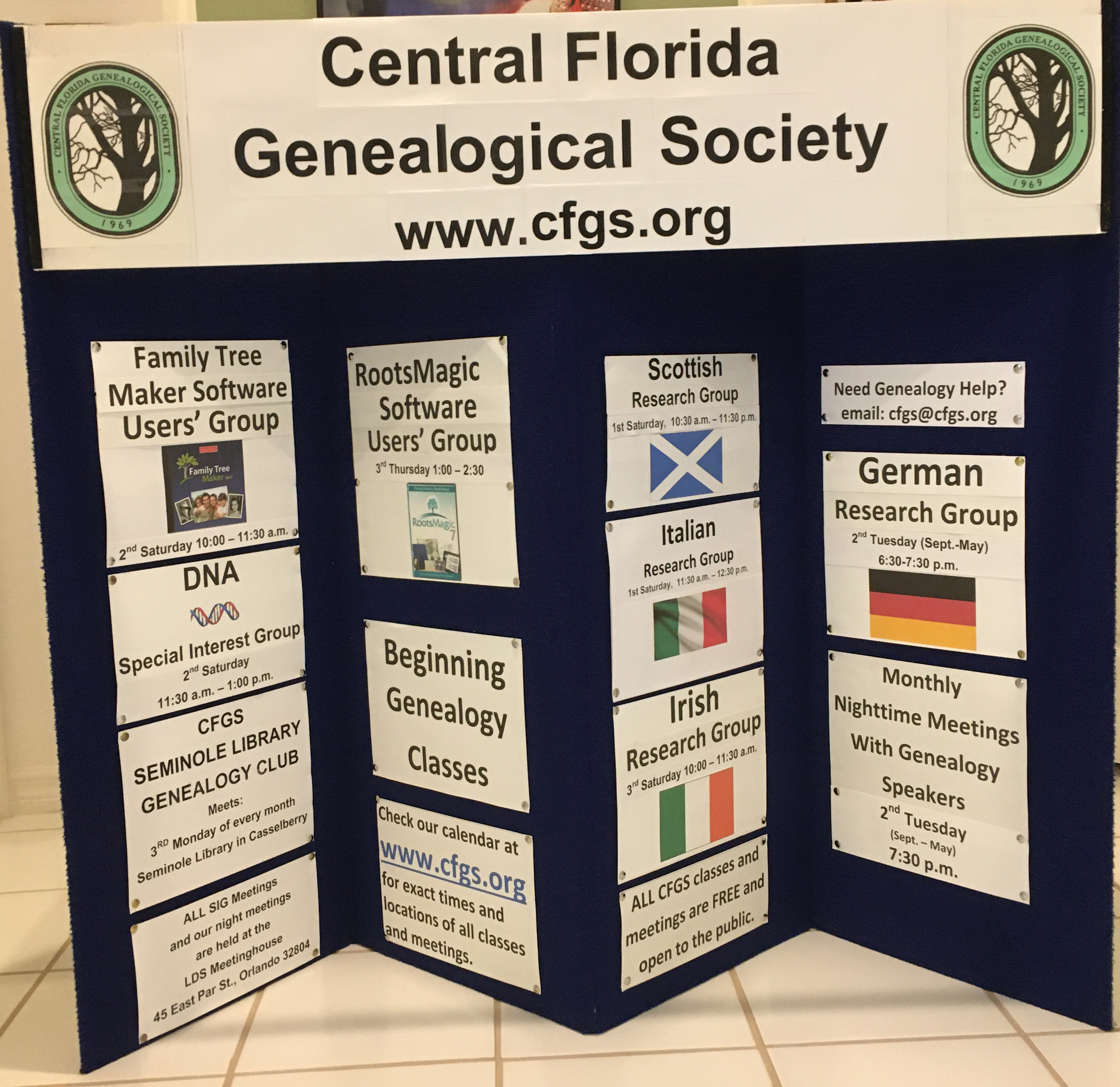 Dues are now due! If you paid dues after March 1, 2019, your dues carry over until September 1, of 2020. Everyone will receive an email on Oct. 8 with a new Member Login and Password. (Every member of CFGS has the same login and password.)
You do NOT need to log on to renew your dues or to join as a new member. Click on the JOIN button above or link here.
CFGS Turns 50!
All CURRENT CFGS members and invited guests are invited to celebrate the 50th anniversary celebration of CFGS on Saturday, October 26 at 11:30 a.m. We will have a Celebratory Luncheon and Genealogy Fair. CFGS members are invited to share their family histories with us by bringing scrapbooks, family tree charts, family history books you've written, and any family memorabilia. Tables will be provided for your displays. There will also be informational displays of lineage societies, historical, and ethnic groups, and other genealogy groups. Join us for a complimentary lunch for current CFGS members and invited guests.
The Central Florida Genealogical Society, Inc.
is a non-profit society located in the Orlando Florida area that promotes family history research by providing education and research opportunities to its members and the public. Central Florida is comprised of nine counties. We hold regular meetings in both Orange and in Seminole County, and have members living all over Central Florida and the United States. All of our meetings are free and open to anyone. We are also dedicated to aiding others living elsewhere who have ancestors from Central Florida. See our About Us page to learn more.
View Our Meeting Calendar and Events Page
We conduct 113 meetings each year!
Visitors are welcome at all meetings.
Central Florida Genealogical Society meetings — Click on the green links below for more detailed information about our meetings:
General Meetings – Are held at 7:30 p.m. on the 2nd Tuesday from September through May. We have a speaker who talks on a topic of interest to genealogists.
Daytime Meetings – Are held at the Seminole County Library in Casselberry on the 3rd Monday of every month year-round. We have speakers who talk on a topic of genealogical interest and also have a breakout session where small groups discuss various genealogy topics.
Special Interest Group Meetings – We have eight Special Interest Groups. These are moderated open discussions or presentations which are held during the month on the following topics: Family Tree Maker and RootsMagic software, England, Scottish, Italian, Irish, and German research, and DNA as it relates to genealogy. Check our Calendar below for details.
Board of Directors Meetings – Our board meets monthly except for December. Members are welcome to attend.
Summer Potluck Dinner is held on the 2nd Tuesday in July.
Various Training Classes and Workshops Beginner class are preented at least once a year. We may hold classes on various topics throughout the year. Check our calendar often.
Annual workshop or seminar to be announced on the Events page.
All meetings, except for the Daytime meeting, meet at the Latter-day Saints Meetinghouse at 45 East Par Street in Orlando.
UPDATE! PLEASE NOTE:
The next GENERAL Meeting is on Tuesday, October 8, 2019 at 7:30 p.m.

Speaker: Marcea Oetting Topic: UNVEILED – Creating a New Nation – The Importance of the Colonial Wars and the National Society Daughters of Colonial Wars
The German SIG meeting will meet from 6:30-7:30 p.m. These meetings will all take place at the Latter-day Saints Meetinghouse at 45 East Par Street in Orlando.

If you pay dues after March 2019, your dues carry over until September 1, of 2020.
PLEASE NOTE: Motorists on eastbound Interstate 4 (I-4) who wish to exit to either Par Street or Fairbanks Ave. will need to exit nearly 1.5 miles sooner. The shift combines Exits 85, 86, and 87 into one exit point.
Motorists exiting eastbound I-4 to Princeton Street, Par Street, or Fairbanks Ave. all must exit at a temporary ramp located just north of the Colonial Drive (State Road 50) interchange.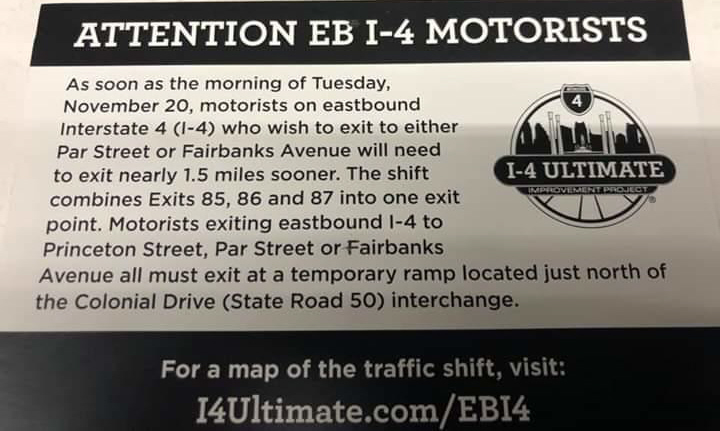 Please park in the rear of the church and enter through the back door.
Join our CFGS Facebook Group to ask questions and have discussions about researching and exploring your ancestors.