is a non-profit society located in the Orlando Florida area that promotes family history research by providing education and research opportunities to its members and the public. Central Florida is comprised of nine counties. We hold regular meetings in both Orange and in Seminole County, and have members living all over Central Florida and the United States. All of our meetings are free and open to anyone. We are also dedicated to aiding others living elsewhere who have ancestors from Central Florida. See our About Us page to learn more.
View Our Meeting Calendar and Events Page
We conduct 89 meetings each year. 
Visitors are welcome at all meetings.

Central Florida Genealogical Society meetings — Click on the green links below for more detailed information about our meetings: 
General Meetings  – Nine monthly meetings with a genealogy speaker held in the evening from September through May.
Daytime Meetings – Twelve monthly meetings held at the Seminole County Library in Casselberry. We have a speaker and also have a breakout session where small groups to discuss various genealogy topics.
Special Interest Group Meetings  – These are moderated open discussions held several times during the month on the following topics:  Family Tree Maker and RootsMagic software,  Irish and German research, and DNA as it relates to genealogy. Check our Calendar below for details.
Board of Directors Meetings  – Our board meets monthly except for December. Members are welcome to attend.
Dinner Get Together is generally held the 2nd Tuesday evening in July.
Various Training Classes and Workshops We conduct a beginner class at least once a year. We may hold classes on various topics throughout the year. Check our calendar often.
Annual workshop or seminar to be announced on the Events page.
All meetings except for the Daytime meeting, meet at the LDS Meetinghouse at 45 East Par Street in Orlando.

UPDATE! PLEASE NOTE:
July 13, 2018 – At Par and Formosa there is a "Local Traffic Only" sign because Formosa no longer goes through at I-4. This is likely a temporary closure. 

The eastbound I-4 exit ramp to Fairbanks Ave. (Exit 87) has shifted nearly two miles sooner, and combined with the exit ramp to Par St. Please see details on the map. In addition, when you are traveling eastbound and you exit I-4, get in the FAR right lane, otherwise you will get back on I-4. 
Please park in the rear of the church and enter through the back door.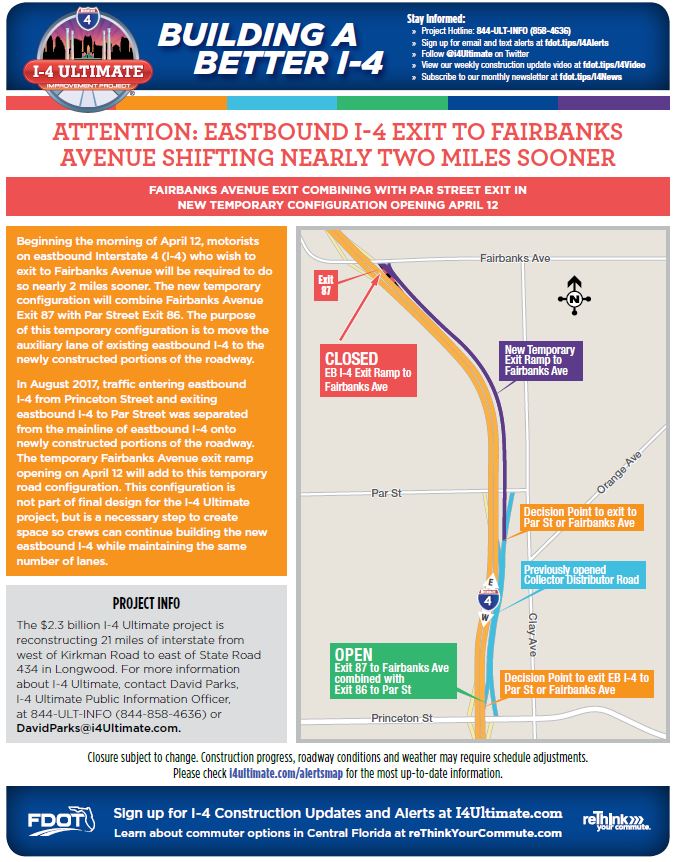 ***********
Join our CFGS Facebook Group to ask questions and have discussions about researching and exploring your ancestors.