CFGS Meetings
All dates are subject to change. All meetings are held at the LDS Meetinghouse at 45 East Par Street, Orlando, Florida 32804, except for the Daytime meetings, which are held at the Seminole County Library at 215 North Oxford Road, Casselberry, Florida 32707.
For an up-to-date listing of all meeting dates and locations, please see our Calendar. All meetings are free and open to the public. 
General Meetings
General Meetings are held on the 2nd Tuesday of the month at 7:30 p.m., September through May. There are no General Meetings during June, July, and August.
General Meetings usually feature a short business meeting, followed by a speaker covering topics of interest to genealogy and local history researchers. This is followed by a social break. BE THERE EARLY at 7 p.m. for a genealogy Q&A session— an informal gathering that precedes the General Meeting — where you can ask any genealogy question, share your successes, or make suggestions. Also, at 6:30 p.m. the German Special Interest Group meets in a nearby room. That SIG meeting ends at 7:30 p.m., when the General Meeting starts.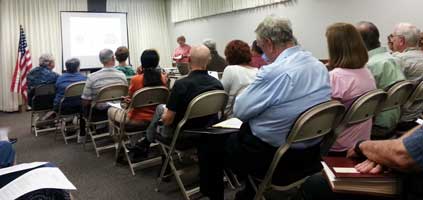 Daytime Meetings
The Daytime Meetings are held from 1:00 to 3:00  p.m. on the 3rd Monday of every month. CFGS has partnered with the Central Branch of the Seminole County Library at 215 North Oxford Road, Casselberry, Florida 32707, in hosting their monthly Genealogy Club. The format for these meetings will be as follows: Announcements of genealogical interest, followed by a presentation on a topic of interest to genealogists. We then have a short break which is followed by break-out sessions where individuals can get help with a variety of questions they might have on various genealogical topics. Please note that the specific room we meet in at the Seminole County Library may vary each month.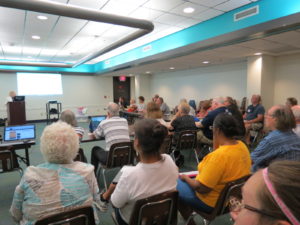 Special Interest Groups:
All SIG meetings are held at the LDS Meetinghouse at 45 East Par Street, Orlando, Florida 32804.
DNA/Family Tree Maker (FTM) SIG
This combined SIG meets on the 2nd Saturday of each month at 10 a.m. We will discuss Family Tree Maker software from 10 to 11 a.m. and then DNA as it relates to genealogy from 11 a.m. to noon. You may attend either or both sessions. This combined SIG is led by Brittany Jenkins or Elaine Powell.
German Genealogy SIG
The German Genealogy SIG meets from 6:30 to 7:30 p.m. before the General Meetings on the 2nd Tuesday of each month September through May. This group is led by Sallie Belperche and Mark Swick.
Irish Genealogy SIG
The Irish Group meets on the 3rd Saturday of each month at 10 a.m.  This group is led by Billy Morgan. 
RootsMagic SIG
The RootsMagic SIG meets on the 4th Thursday of each month (3rd Thursday in November and Decemter) at 1 p.m. This is a group for RootsMagic software users at all levels of expertise. We hold an open discussion where all are invited to participate. This group is led by Betty Jo Stockton
You are welcome to bring your laptops and other devices to any of our meetings, as Wi-Fi is available at the LDS Meetinghouse. Please check the Calendar for the date and location of these meetings, as they are subject to last-minute changes. Meetings that fall on a holiday may be moved or canceled if changing the date is not practical.
Board Meetings
Meetings of the CFGS Board of Directors are held at 6:30 p.m. on the Tuesday immediately following our monthly (2nd Tuesday) evening General Meeting (September through May). In June, July and August board meetings are held on the 3rd Tuesday. There is no board meeting in December. Board meetings may be waived by the Society President. All members and guests are invited to attend. The meeting location is the LDS Meetinghouse, 45 East Par St., Orlando, Florida 32804.
Although the Central Florida Genealogical Society currently holds meetings at an LDS church, it is in no way affiliated with the organization or mission of the Church of Jesus Christ of Latter-day Saints.
Other Meetings and Events
Any additional or special meetings will be included in the Calendar, including some events of neighboring genealaogical societies. For other genealogy events throughout Florida, check the Florida State Genealogical Society calendar and other local genealogical societies listed under Upcoming Genealogy Events.
Maps of Meeting Locations
Please join us on Tuesday, July 10th at 6:00 p.m. for our annual summer dinner. This year we'll have a potluck dinner at our regular meeting location on Par St. Bring a favorite family recipe to share and attach a recipe card, or bring whatever you'd like. Don't cook? Stop at Publix or your favorite store and pick something up. We'll have plenty of time to eat and talk about genealogy! 
The next General Meeting is on Tuesday, September 11, 2018 at 7:30 p.m. The German SIG meeting will start at 6:30 p.m. These meetings will all take place at the LDS Meetinghouse at 45 East Par Street in Orlando.
UPDATE! PLEASE NOTE! 
The eastbound I-4 exit ramp to Fairbanks Ave. (Exit 87) has shifted nearly two miles sooner, and combined with the exit ramp to Par St. Please see details on the map. In addition, when you are traveling eastbound and you exit I-4, get in the FAR right lane, otherwise you will get get back on I-4. 
Please park in the rear of the church and enter through the back door.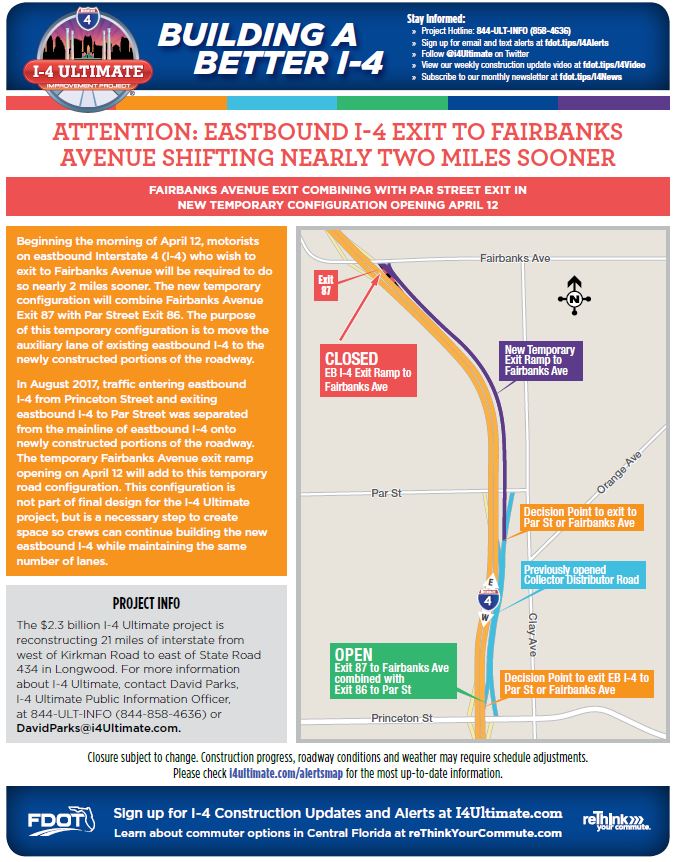 All meetings are open to the public.