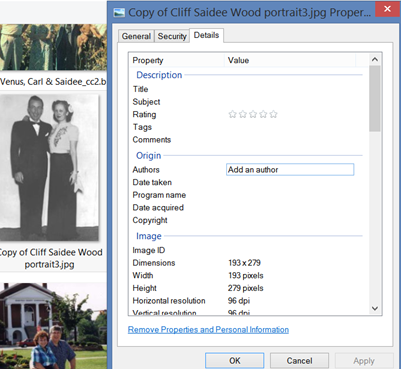 What if you could store information about a file such as a description, the author, keywords, etc., and associate it with the file so it is always available? What if you could easily search on your computer for all photos with a certain person in them? By using a file's metadata you will be able to do just that! It is a valuable means of managing any data and it is very easy to do once you know how. Basically, metadata is data about data and is a way of classifying and organizing files – including digital images.Below are three different tools to help you use metadata for your digital images.
To learn how to do this watch this free Webinar, Metadata for Digital Images, by Thomas MacEntee sponsored by Flip-Pal mobile scanner. You will learn a ton of information that will help you document your digital images. I give this one *****.
After watching the video, read The Legal Genealogist's article An image citation how-to where she talks about a favorite program Irfanview.
Finally, take a look at ExifPro. It is an image browser application that can help you display, describe, tag, and manipulate your collection of photographs. I have used this program for many years to tag my photos. In addition to tagging, ExiifPro offers several view modes like thumbnails, previews, or image details. Selected images may be copied, resized, cropped, rotated, renamed, and adjusted. ExifPro can present information embedded in photographs (EXIF metadata) describing different parameters used by digital cameras while taking shots. One can create HTML albums or slide shows using built-in generators, print images, append descriptions, and tags, automatically rename and transfer photographs.