How many of you have done a through audit of the data in our family tree software? I know I have not. To specify what I am talking about, have you checked to see if your database has children that were born after their parents died or couples that were married at a very young age? A few months ago an article in Dick Eastman's Online Genealogy Newsletter spoke of auditing our databases with the routines built into our programs. This is great, but most of us have never used them.
A few weeks later Dick Eastman wrote another article about this. He described a program that will not only help with the above issues of bad dates etc. but also provide us with clues for locating information we either had not thought about or never got around to looking for. Dick's article, Explore Your Family Tree with Family Tree Analyzer 5, brought to my attention a program that will not only perform an audit on your database (in the form of a GEDCOM file) but will also help you find missing records.
Investigate and Spot Problems in Your Data
With the free Family Tree Analyzer you can to investigate your family tree in many new and interesting ways. You can see where your ancestors lived and moved over time on the maps feature. Find errors in your tree e.g.: children's birthdates before parent was born. See lists of who is missing from census searches then click their name to automatically search on Ancestry, Find My Past, FamilySearch etc. And lots more.
Family Tree Analyzer allows you to really understand your tree, spot problems, links, and patterns you might have missed. Using a GEDCOM file of your database, it will analyzes it by using a number of useful reports, providing details you might not have uncovered any other way.
It took me only a few minutes to download and install Family Tree Analyzer. (I did not encounter the slow website Dick Eastman mentioned.) Once installed, I pointed it to a GEDCOM file I created from The Master Genealogist and ran the Family Tree Analyzer. The first thing it gave me was an error report on the GEDCOM file. This included a few date it considered "bad" like 'EITHER 09 FEB 1848 OR 15 FEB 1848' or 'spring 1954'. After the dates it provided the number of families and lone individuals in the GEDCOM file. Next came a listing of various facts. Since one of this programs feature is to map your ancestors it also assigns coordinates to locations in the GEDCOM file.
Programs Features
After the initial file checking, I tried a few of the program's features. When I ran a list of families I was able to sort the list by families with only one member. I quickly identified a cousin's wife whose name was spelled incorrectly and not attached to her husband of children.
Next I ran a report on parent's age at their children's birth. This listing showed six children born when the mothers were over 50 (and this was just for my direct ancestors).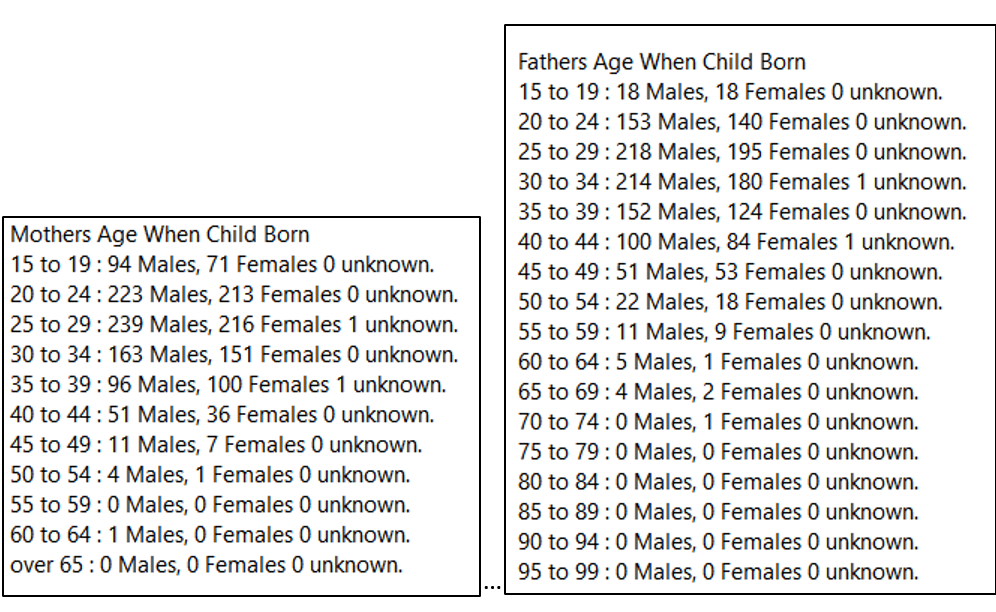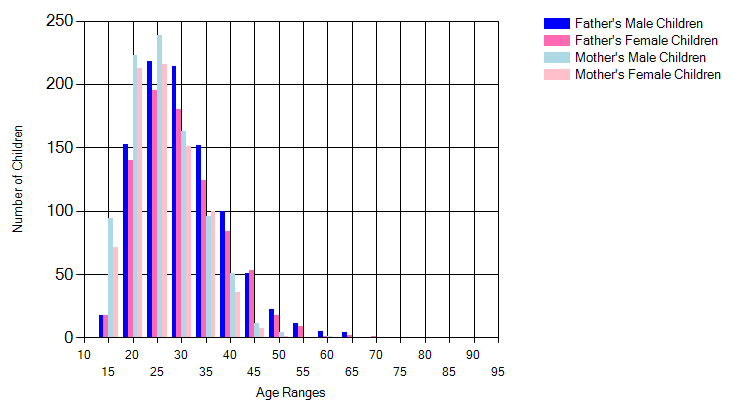 Next I tried the census reports. This feature can show you in a color coded timeline which individuals have census records and which do not.

The report also provides you your ancestor's location at various censuses so you can then check census records for them. The names in includes (as seen above) can be selected for Direct Ancestors, Blood Relations, etc. You can also select specific families to chart. US, UK and Canadian Censuses are available. The screen shot below shows a timeline for the US Census from 1790 to 1940.
When I clicked on a coded section of the census report for Fredrick McDaniel (the yellow block shown below), Family Tree Finder took me to a search record for that individual in the year I clicked on. UNBELIEVABLE!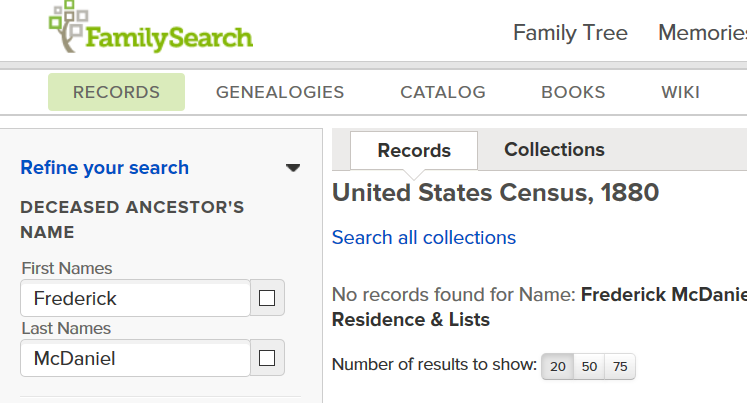 When I tried the mapping however, I found it was not very accurate as one ancestor that lived in Pennsylvania was shown in Virginia and a cousin born in Iowa was mapped in the Philippines. I will need to look into that further to see what went wrong.
I wish I had time to do a thorough study for this review of Family Tree Analyzer. However, it would take me weeks to check out all the feature included in the free program. This program looks like a real winner that will be a valuable addition to the list of tools you use to explore your family's history and to help maintain your genealogy database. And, you can't beat FREE!
Features
Because I didn't have the time to check out all the features of this program justice, I am including information from their website at https://ftanalyzer.codeplex.com/ to provide a better idea of its capabilities. These include:
• Individual Lists – showing all the individuals in your GEDCOM with their vital details, double clicking on an individual shows all the facts for that individual.
• Family Lists – showing all the families in your GEDCOM with lists of who is in that family
• Surnames List – shows a list of the surnames in your file with a link to the Guild of One Name Studies site if that surname project exists
• Location Lists – verifies you have valid locations and double clicking on location text shows who is at that location. Clicking on the Show Map button attempts to locate the location on Google Maps.
• Occupation Lists – showing all the occupations in your GEDCOM – double clicking on an occupation shows the lists of people with that occupation.
• Facts – Allows you to view the various fact types in your GEDCOM see who has a particular fact also shows a count of how many sources a fact has. Double clicking on a fact shows the detailed sources for that fact
• Sources – Shows all the sources in your GEDCOM along with a count of the number of facts for each source. Double clicking on a source lists all the facts that have been sourced by that source
• Data Errors List – shows various types of data errors in your GEDCOM such as events happening before someone was born or after they died etic
• Census Lists – form that permits listing everyone in your file that should be alive on a census at a particular date and for whom you have not yet found a census entry
• Loose Death list – shows all details where you have death date info for an individual but you haven't updated the death record for that individual.
• Lost Cousins Report – shows you everyone you have already found on a census so you can check if you have entered them at Lost Cousins
• Color Reports
o The BMD report shows you BMD facts for everyone you select from filter color coded by how accurate the date is from Green = exact date through to Red = unknown date. Marriage facts also show if person of marriage age but no partner; partner but no marriage fact; no partner but has children.
o The census report shows color coded census to see which census you have still to find people on and whether you have entered those people to Lost Cousins. Clicking on a missing census entry searches for that person online.
• Treetops Report – lists all people in your tree at the top of the tree i.e.: those people with no parents, these are the people who are the furthest back on that line.
• World Wars Report – lists possible males alive and of likely fighting age during both world wars. You can also shift click.to auto search for the man on the Lives of the First World War site.
Documentation
There are Help pages available under the Documentation tab https://ftanalyzer.codeplex.com/documentation. Currently the documentation is in the form of a series of web pages. Unfortunately these pages are not linked together and you have to go back and forth to read the next section. There is no PDF version available either.
This program is under constant development and suggestions for improvements and new features are very welcome. Please add suggestions via the Issues tab and add suggestion in the subject.
Freely Licensed for Use
Family Tree Analyzer is licensed under the GNU General Public License, version 2 which allows you to free use the program but not resell it. It is also an open source project which means that many people can contribute to it and the code is available for a review for bugs and malware. The current version as of July 25, 2015 is 5.1.0.1. The project released version 1 in March 2010.
Installing the software
The free Family Tree Analyzer can be downloaded from https://ftanalyzer.codeplex.com/releases/view/616201. Installation is simple with the click once installer. You can also use this program from a thumb drive without installing it on your computer. Unfortunately, for Mac owners FTAnalyzer 5 runs only on Windows.
Note that Family Tree Analyzer requires that the Microsoft .Net 4 Client Profile has been installed. This is usually present on most windows machines. If not it can be downloaded free from Microsoft at http://www.microsoft.com/en-us/download/details.aspx?id=24872 and clicking the download link. Once downloaded simply run the file to install.