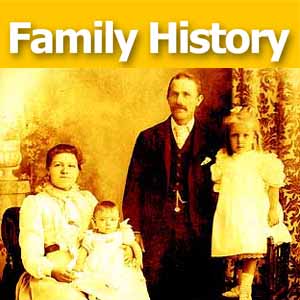 If you are not familiar with podcasts, they are similar to a radio show where the host discusses a topic and sometimes has a guest or two. Podcasts are generally in the MP3 audio file format that can be played on a number of devices includes computers, tablets and smartphones. Many, like this series, can also be played using iTunes. There are also apps you can download and install that will allow you to subscribe to one or more podcasts shows and play them for you on demand. You can find podcasts on all manner of subjects. Some contain commercials and some do not. Some even charge a subscription fee in order to listen to them. Podcasts can run from just a few minutes to over 2 hours. One benifit of podcasts is that with a smartphone or iPod you can listen to them anywhere.
Lisa Louise Cooke's Genealogy Gems has both free and subscription podcasts. In 2008 she recorded a series of podcasts titled Family History: Genealogy Made Easy that are available on her website. There are 45 episodes in this collection and they are available free. These contain step-by-step directions for both beginning and experienced genealogists. The topics include Getting Started, Vital Records, Genealogy Records, Census Records, Using Family History Centers and many more. While a few like those that cover "best websites" and "genetic genealogy" are out of date, most are still relevant today. The length of these is around 30 minutes.
If you want to learn more about genealogy and how to research, I recommend you check this free resource out. The Family History: Genealogy Made Easy Podcasts can be found on Lisa Louise Cooke's website at http://lisalouisecooke.com/family-history-podcast/.